June, 2001: Cruise to the Western Carribean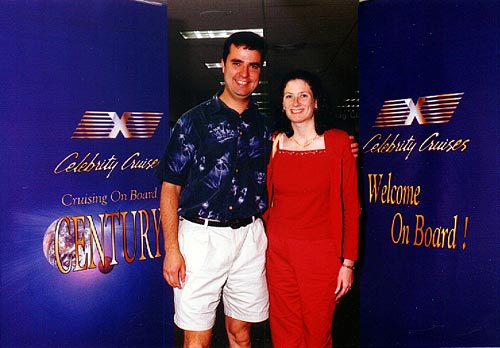 Here we are, ready for vacation, boarding the ship...


---


Eating dinner during one of the formal nights... The food is certainly one of the highlights of taking a cruise.


---


On another formal night, we posed for a portrait...


---


First stop, Jamaica! The weather was nice, the water was beautiful. Here's a picture of Maureen with our ship, the Century (Celebrity Cruise line) in the background.


---


First stop, the famous Dunns River Falls!


---


The water was refreshing on this hot summer day!


---


More Dunns River falls pictures...


---


More Dunns River falls pictures...


---


Next stop, the Cayman Islands... This is probably the only place in the world where you can safely swim with the Sting Rays!


---


More pictures of the Sting Rays...


---


Here's one brushing up against Maureen's leg!


---


We had a great day of snorkeling off the Cayman Islands!


---


We also enjoyed the boat ride back...


---


Next stop: Cozumel, Mexico. Here we took a Jeep tour, where a caravan of Jeeps ride through the city, then go through some real off road trails (with large rocks, and lot's of sand). This makes for a wild ride to say the least.


---


Our first stop on the Jeep tour was at an ancient Mayan ruin. Here we are praying to the Mayan God of fertility, Ischel (sp?). Hey, we'll try anything at this point!


---


Our next stop was on one of the many incredible beaches at Cozumel. Here, our Jeep caravan was prepared a special cook-out as we enjoyed our time having some fun in the sun!


---


On the way back, we stopped at the "pee-pee" station. Hey, when in Rome...


---


On our trip, we met some very nice people. Here is our dining table with friends from England, New Jersey and Indianappolis.

On a side note, we also stopped at Key West, Florida. However, we were just there six months ago. Likewise, there isn't much sense adding the same pictures to this page.