Disney 2007
Shannon with her Mommy on their first ride... the tea cups.
---
Shannon with her Daddy, waiting in line for the Dumbo ride.
---
The days were hot, but the scenery was nice.
---
A view from the geiser inside the hotel (Wilderness Lodge).
---
Shannon was able to paint her own desert at the Artist Point restaurant.
---
Here we are starting one of our days at Epcot.
---
We enjoyed our visit of "the Sea", featuring the finding Nemo cast.
---
For lunch, we ate at Germany (in Epcot) and were treated to polka music.
---
Cheers!
---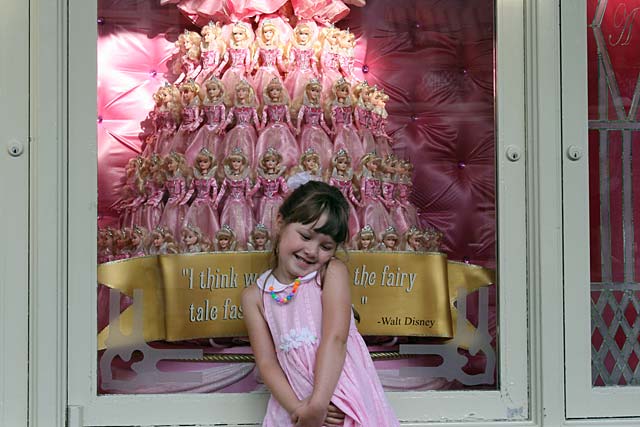 Shannon's favorite princess on this trip was Sleeping Beauty (Aurora). So many dolls... going to Disney was a dream come true!
---
We're on our way to the Castle to have breakfast with Cinderella before the park opens for the masses. Here's a rare shot of main street without a crowd.
---
---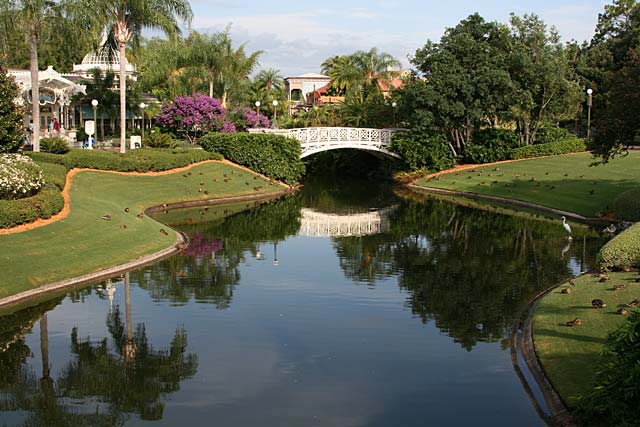 ---
The theme of this trip was "two thumbs up"!
---
Shannon couldn't believe she met the "real" Cinderella!
---
At breakfast, Bell saw Shannon waiving and came to our table first!
---
Shannon was so "star struck" when she met Snow White that she forgot her name. When Snow What asked Shannon what her name was, she replied: "Snow White...... I mean... Shannon!".
---
Here's a picture of Shannon with her favorite princess (at least this week), Aurora.
---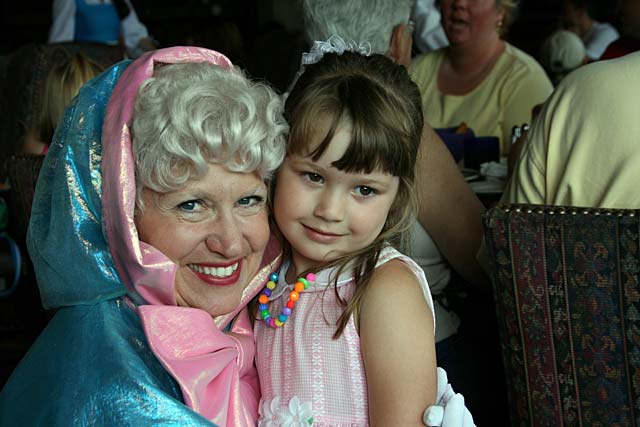 Here's Shannon with the Fairy Godmother.
---
We met Mickey Mouse!
---
We went on the flying carpet ride.
---
We met princess Jasmine, but we were afraid of Aladdin and Genie.
---
...but, when Shannon wasn't looking, they snuck into the picture anyway!
---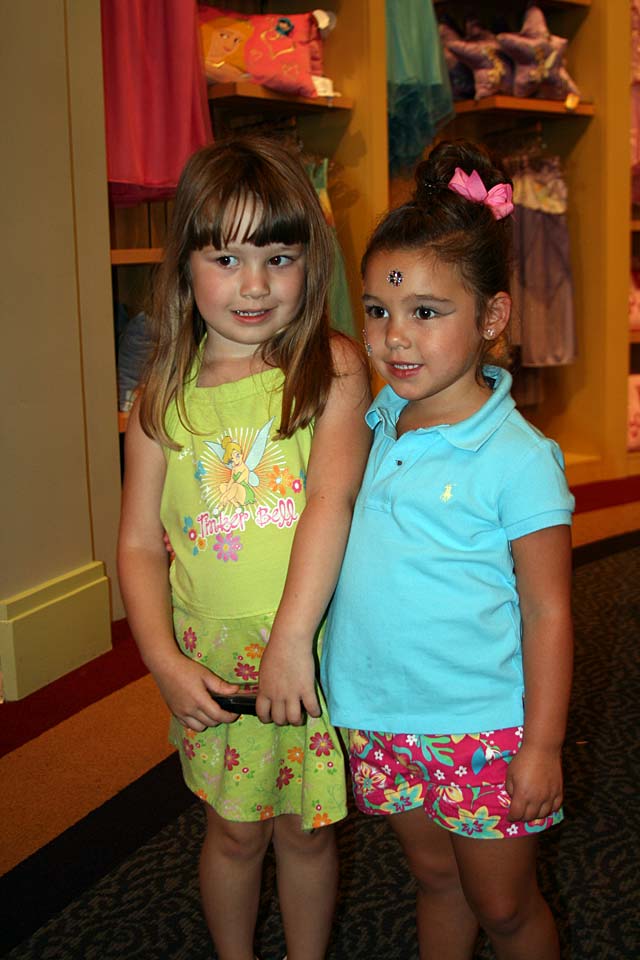 Shannon met a friend, Bella, the day before in Epcot. It turns out, they both had appointments at the same time for the Bippity, Boppity, Boutique to be made up as princesses.
---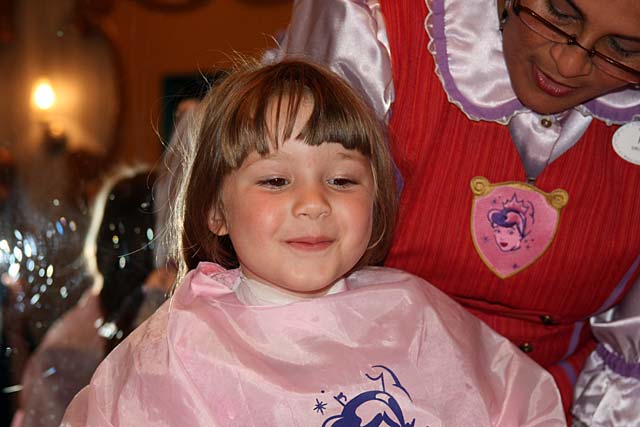 Shannon was very excited. This was her favorite part of the trip.
---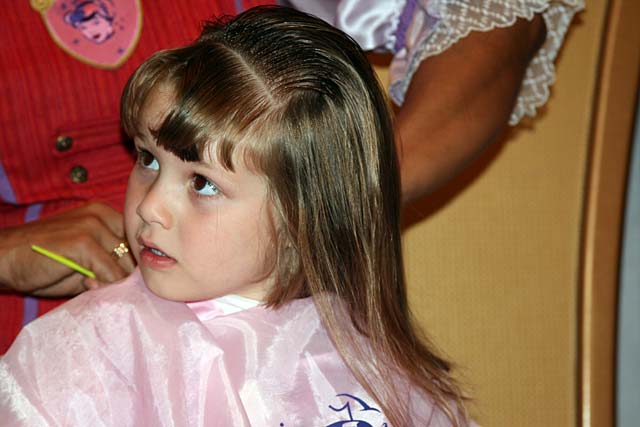 Shannon didn't complain when the hair dresser took the knots out of her hair.
---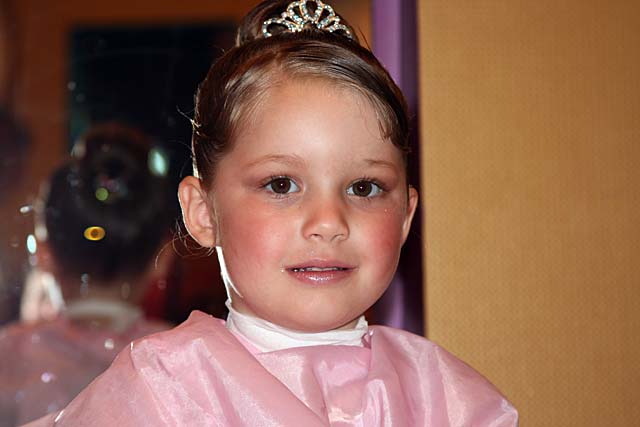 Wow, Shannon is looking like a princess already...
---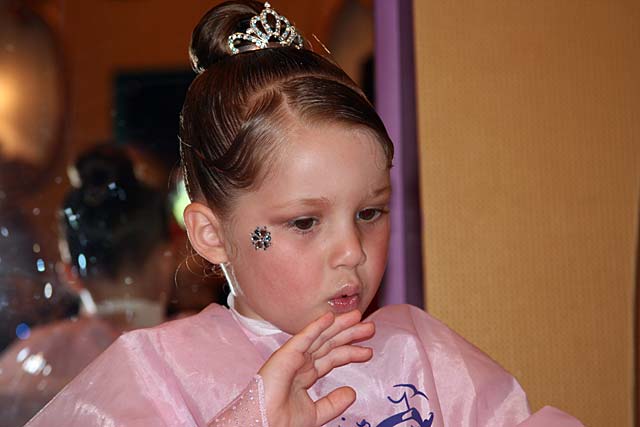 ...blowing her nails dry...
---
At the end, they turn her around in her chair so she can see what she looks like. This is a picture from the mirror.
---
---
Later that day, we took a safari ride and saw lots of animals at the Animal Kingdom.
---
---
---
---
Shannon and Mommy pose with Jiminy Cricket.
---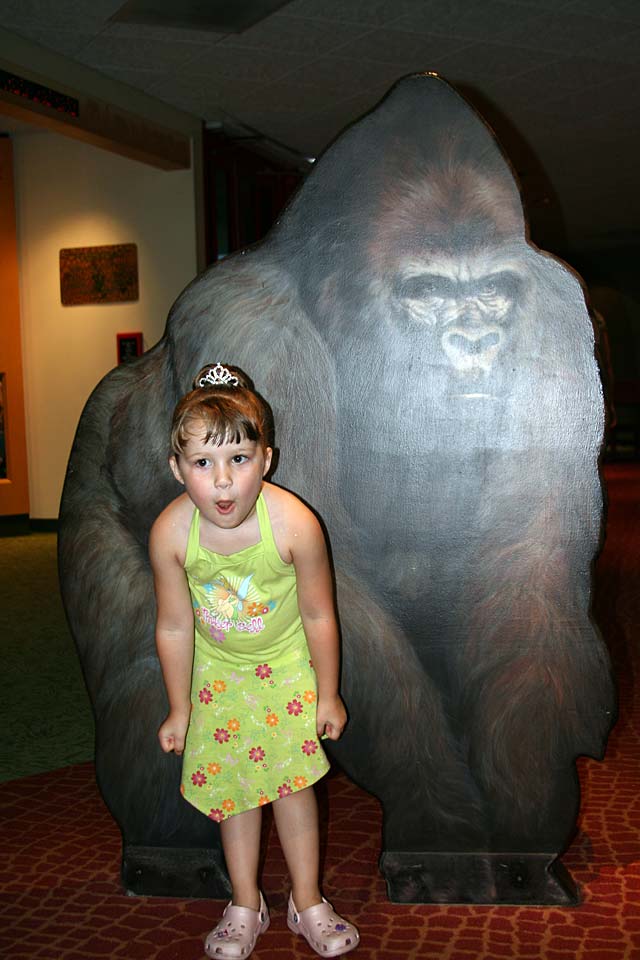 Shannon gives her best Gorilla imitation.
---
Our little princess... just enjoying the day!
---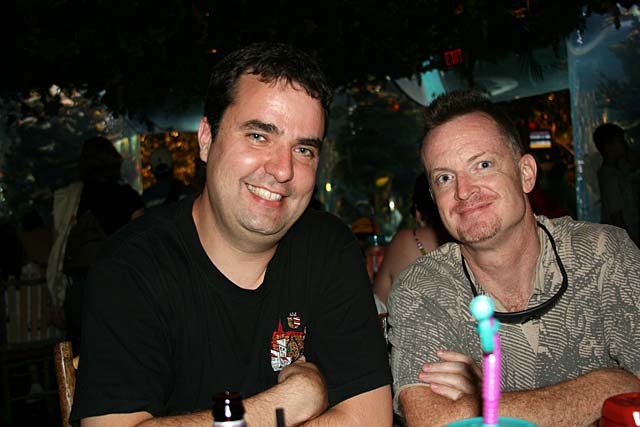 I met my friend, John, who I used to work with but now lives in Florida.
---
We went to MGM the next day. Out of the large crowd, they picked Shannon to be the princess of the day and gave her VIP seating and presented her with a rose in front of an audience of thousands. Unfortunately, the man in blue stood up just as Maureen took this picture.
---
Here's Shannon showing the rose she was given from Bell with her VIP pass.
---
We saw Mike and Sulley from Monster's Inc.
---
Then we had lunch at the Sci-Fi theater.
---
Shannon was calling her Mema while we were waiting for a table at the Boardwalk.
---
Back to the Magic Kingdom on our last day.
---
We met Timon and Rafiki.
---
At lunch, we met Tigger!
---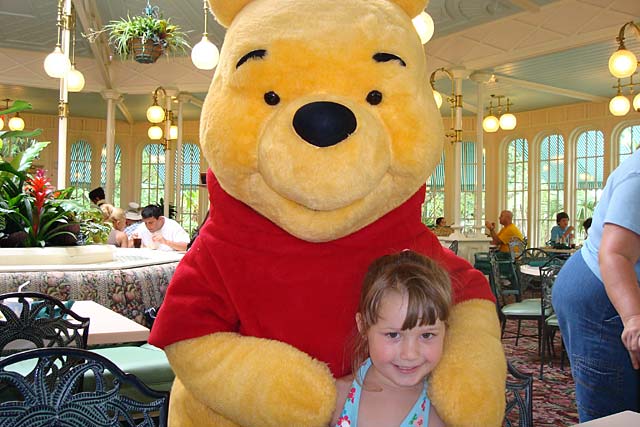 ...and Pooh...
---
...and Piglet... Shannon said that Piglet was bigger than she thought he'd be.
---
Finally, we met Eeyore (Maureen's favorite).